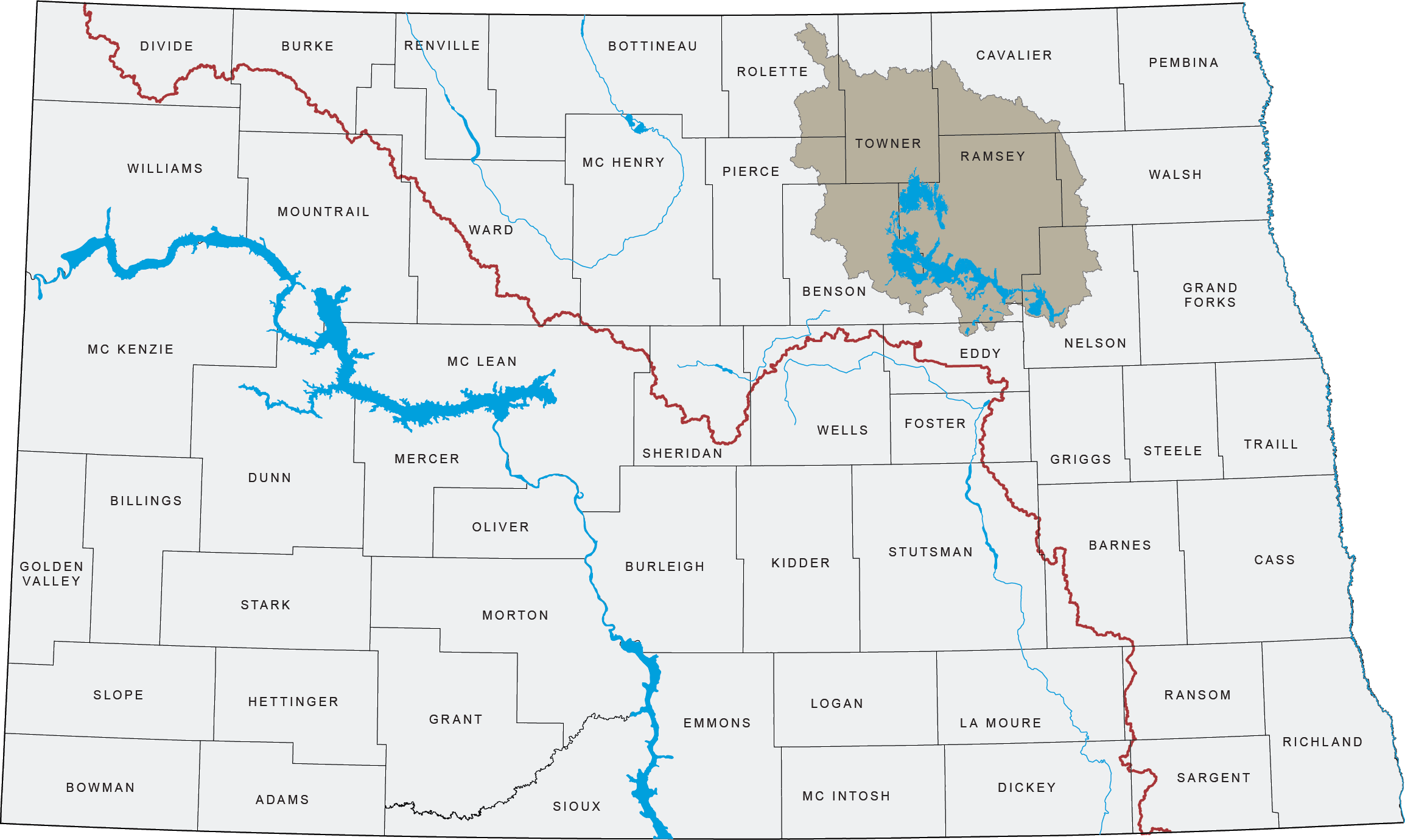 Devils Lake is a terminal lake in the Devils Lake basin, which means that water leaves Devils Lake through evapotranspiration or when its elevation is high enough to overflow the basin's boundary. Because Devils Lake does not have a natural outlet at its current elevation, it is either rising or falling in response to climatic conditions, a condition that has led to numerous challenges since settlement times. There is geological evidence that Devils Lake has overflowed into the Sheyenne River and dried up completely on several occasions over the last 10,000 years.
Devils Lake's most recent rise began in 1993, and on June 27, 2011, Devils Lake crept to a new record level of 1454.3 feet (above mean sea level) a rise of over 31 feet. In August 2001, Devils Lake reached an elevation sufficient to allow water to flow naturally from east Devils Lake, through the Jerusalem Channel, into Stump Lake. In 2007, Devils Lake had moved enough water through the Jerusalem Channel to equalize the elevation of Stump Lake with Devils Lake. The equalization means that Stump Lake and Devils Lake will rise together, and the significant storage capacity that Stump Lake once provided has been utilized.
Some of the challenges associated with Devils Lake's flooding situation include tens of thousands of acres of flooded agricultural land, the relocation of houses, roads, and structures, such as the City of Devils Lake's water supply line.
The State of North Dakota has identified three broad strategies to attempt to mitigate water issues in the basin: including outlets to the Sheyenne River, basin water management, and infrastructure protection.
Devils Lake Elevation Graph (4,000 Years) - A figure that estimates lake elevation in Devils Lake over the last 4,000 years, based upon tree ring and soils data.
Devils Lake Period Of Record Elevation Graph - Measured changes in the elevation of Devils Lake since record keeping began.
---
Information
For more information on the Devils Lake Basin, please contact Tim Dodd, P.E., Devils Lake Basin Engineer (701) 328-4962 or e-mail.