The ARB has been involved in weather modification research since its creation by the legislature in 1975. Weather modification research in North Dakota, however, goes back to research pilot programs that were conducted over parts of western North Dakota during the 1960s. Many advancements in cloud seeding technology, especially in the area of hail suppression have come as a direct result of research and operations in North Dakota.
Polarimetric Cloud Analysis and Seeding Test (POLCAST)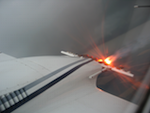 Hygroscopic flare burns below cloud
POLCAST is a hygroscopic seeding research project designed to help determine if this type of seeding could help increase rainfall and reduce damaging hail from summer thunderstorms. The initial operational phase of the program, a cooperative venture between NDARB, UND, Weather Modification Inc., and Ice Crystal Engineering, was conducted from July 10-August 5, 2006.
The second phase, POLCAST2, involved the original parties with the addition of the National Center for Atmospheric Research (NCAR) and was conducted from June 9 - July 11, 2008. Phase two incorporated predetermined, randomized selection of candidate clouds for seeding to strengthen statistical results. Additional field campaigns have been conducted during the summers of 2010 and 2012.
In 2013, two papers related to POLCAST were given at the Weather Modification Association's conference technical sessions. The reports were titled "Comparison of Pilot and Aircraft Integrated meteorological Measurement System (AIMMS) Cloud Base Updrafts" by Delene, Simelane, Ahlness and Langerud and "Analysis of Cloud Condensation Nuclei Measurements Conducted during the Polarimetric Cloud Analysis and Seeding Test Projects" by Delene, Bart and Langerud.
In 2014, funding went towards analysis of the existing data to get an understanding of preliminary results, strengths and weaknesses in the datasets and future (if any) field operations. A final report will be provided to ARB by May 31, 2016.
Weather Damage Modification Program (WDMP) 2002-2005
A cooperative state/federal research program conducted through the U.S. Bureau of Reclamation.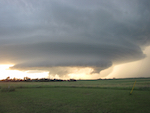 Thunderstorm photo by Daniel Brothers
A multi-agency research program designed to examine thunderstorm evolution with emphasis on tracer transport and precipitation evolution.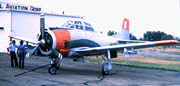 SDSM&T IAS T-28 Aircraft
A multi-agency research program designed to examine a number of facets of thunderstorm characteristics and evolution.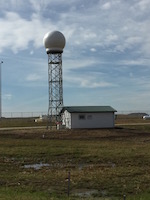 Bowman Radar
The National Oceanic and Atmospheric Administration sponsored a cooperative state/federal research program dealing with convective cloud processes and their potential modification. The program was active from 1980-1994.
A comprehensive list of all of the technical papers completed in the scope of ARB research activities.