North Dakota Atmospheric Resource Board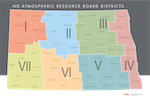 ARB Member Districts
The Atmospheric Resource Board (ARB) is a quasi-judicial, quasi-legislative advisory and rule-making board under the supervision of the Water Commission, established under North Dakota Century Code Chapter 61-04.1. ARB is co-located with the Department of Water Resources and functions as one of its divisions.
The ARB is comprised of seven members appointed by the Governor of North Dakota, each representing a geographic district. Members serve four-year terms and are selected from a list of three candidates submitted by districts with weather modification authorities. Ex-officio members from the Aeronautics Commission, the Department of Environmental Quality (formerly the environmental section of the State Department of Health), and the director of the Department of Water Resources also serve on the board. Membership term information can be found on the Governor's website. All members of the board, with the exception of the chairman, are voting members. The Board sets policies and makes decisions regarding the operation of all NDARB activities.
District Members
I - vacant
II - Gail Yuly, Minot, ND (Vice Chair)
III - David Monson, Osnabrock, ND
IV - Chris Theisen, Thompson, ND (Chair)
V - vacant
VI - Jessica Magilke, Solen, ND
VII - Thomas Burke, Bowman, ND
Ex Officio Members
Andrea Travnicek, Ph.D., Director
ND Department of Water Resources

Kyle Wanner, Director
ND Aeronautics Commission
Rebekah Pfaff (Secretary)
ND Department of Environmental Quality
Meetings & Minutes

ND Public Meeting Notices
The
ND Public Meeting Notices
web application is utilized for posting the ARB meeting schedule. Click the icon to the left to access it. Once in the meeting system, under the dialog box Public Entity, click on "Atmospheric Resource Board, ND". You can get all meeting notices via email if you click the link "Subscribe to Email Notifications" and complete the subsequent form.
Searchable approved meeting minutes can be accessed here.
ND County Weather Modification Authorities
The creation and operation of a county weather modification authority is authorized under North Dakota Century Code chapter 61-04.1. The county commission appoints members who serve on the weather modification authority for that county. The following are authority members for active weather modification authorities in North Dakota.
District 1
Bowman County
Wayne Mrnak, Bowman, ND (Chair)
Wes Andrews, Bowman, ND
Ryan Brewer, Bowman, ND
Chad Miller, Bowman, ND
vacant
Severe Weather Management Association
Slope County Townships of Connor, Hume, Carroll, Cash, Sheets, Mineral Springs, and Cedar Creek
Robb Narum, Bowman, ND (Chair)
Ryan Brooks, Bowman, ND
Dan Powell, Bowman, ND
Wayne Wegner, Bowman, ND
District 2
McKenzie County
Eldean Flynn, Cartwright, ND (Chair)
(Sandra Flynn, Treasurer)
Rodney Cross, Alexander, ND
Roger Flatland, Watford City, ND
Gary Levang, Keene, ND
Luke Taylor, Watford City, ND
Mountrail County
Aaron Skarsgard, Stanley, ND (Chair)
Lynn Heinle, White Earth, ND
Tim Johnson, Stanley, ND
Hayley Jung, Stanley, ND
vacant
Williams County
Jeff Knox, Ray, ND (Chair)
Cierra Aamodt, Williston, ND
John Hovde, Epping, ND
Christian Marshall, Williston, ND
Paul Weyrauch, Ray, ND